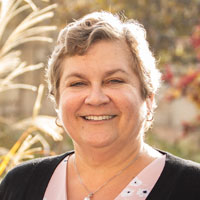 Deputy Chief of Staff
Lisa Guccione was named Chief of Staff in 2019, bringing professional experience that encompasses a broad range of roles, many of which center around civic engagement and volunteerism. She has been involved with national service since 1993 when she served as a Peace Corps volunteer in Mali, West Africa. After leading an AmeriCorps team with the Vermont Anti-Hunger Corps, she subsequently served as a VISTA Leader in Vermont, coordinating a statewide team of AmeriCorps VISTA members working in community and economic development.
Guccione began her career with AmeriCorps as a State Program Specialist and later served as the State Program Director in Phoenix, Arizona, where she took on a special assignment to support national service expansion with Tribes and Territories across the country. After serving as the New Jersey State Program Director, Lisa became the Area Manager for the North Central Cluster in 2011. She also served as the Senior Policy Advisor to former AmeriCorps CEO David Eisner and was the liaison to the Presidential Elect Transition Team.