Mar 23, 2021
As the race to vaccinate Americans continues, AmeriCorps members have landed in communities across the country, bolstering local outreach and vaccination distribution efforts. Collaborating with local partners, AmeriCorps can help fill the gaps where there are remaining needs.
Anthony, an AmeriCorps member serving with the National Civilian Community Corps (NCCC), has deployed to Missouri to support the vaccine distribution efforts in Columbia. Recently, he shared his experience assisting older residents with their vaccination appointments.
"We were assigned to greet patients in the handicap parking lot and offer to push wheelchairs for those in need. We watched as a blue Chevy Traverse and a black GMC Sierra rolled into the parking lot at the same time. We approached the Traverse and asked if they needed any assistance, or a wheelchair. We were greeted by a woman in her early 60s who respectfully declined and informed us that she was waiting for her mother, who was being transported to the vaccination site by her nursing home. We obliged and approached the Sierra Truck. As we got to the window, before we could even speak, the driver (a gentleman also in his early 60s) said he had come with his sister and they were waiting for their mother to arrive."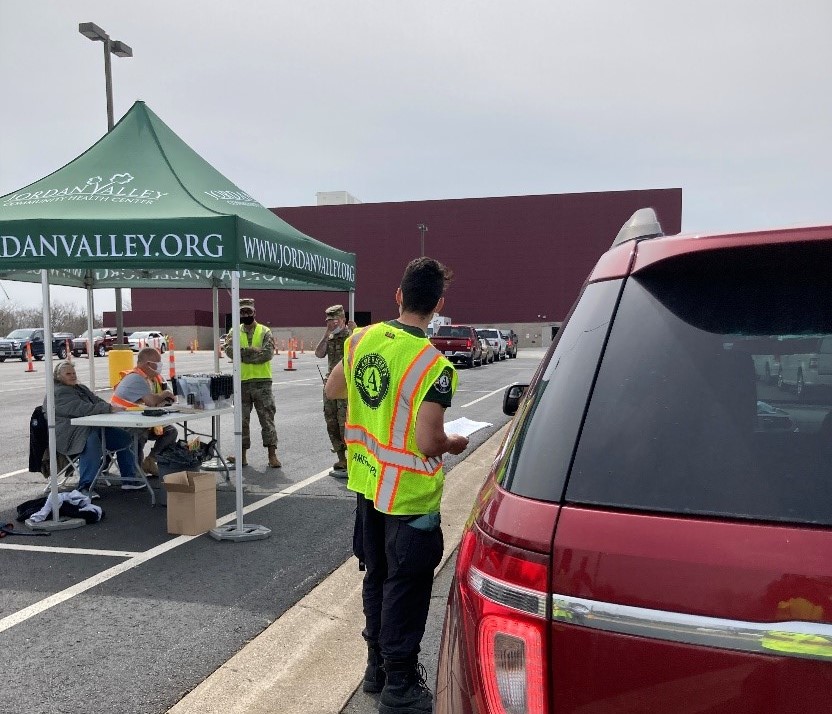 Anthony continued, explaining that about thirty minutes later, the senior living van arrived. He and his AmeriCorps team approached the daughter to see if she needed any help transporting her mom from the van to the vaccination line.
"Before she could answer, she started to weep," Anthony said. "We comforted her; She explained that she hadn't been able to touch her mother, who is 96, in eight months. She and her brother had visited their mother throughout the whole pandemic but could only communicate from outside a window."
As soon as their mother was safe on the ground, the man in the Sierra came out and hugged his sister. Together they collected their mother, thanked the driver, and pushed their mother into the vaccination site through the doors my AmeriCorps team held open. Within ten minutes, she received her the first dose of the Pfizer vaccine.
While every member has their own unique story to share, they all have one thing in common #GettingThingsDone for Americans.