Sep 21, 2023
To commemorate AmeriCorps' 30th anniversary, alumnus Rob Haynes shares what service was like in the 1994 AmeriCorps inaugural class.
---
I was 18 years old and had just graduated from high school when President Bill Clinton announced the creation of AmeriCorps in 1993. I jumped at the chance to join the inaugural class of AmeriCorps members because I wasn't quite ready to go to college. Not only this but my life was framed around service. My parents and my biggest hero, Muhammad Ali, were my inspiration to join the inaugural class. My parents were firm believers in serving others. They volunteered with local nonprofits in our hometown and taught me that leadership is shown through my actions, not just my words. Muhammad Ali's compassion for others and desire for peace have always driven me to serve and make a difference.  
My decision to join AmeriCorps also stemmed from knowing that this was an opportunity to get out of my comfort zone and challenge myself. For 18 years, I had never lived outside my home state of Kentucky. I thought AmeriCorps would be a unique experience to meet new people, travel, and serve my country.  
And it was.  
The Startup of Service 
Serving in the inaugural class was a pivotal point that changed the course of my life from the moment I raised my hand and took the pledge. AmeriCorps had the feel of a modern-day startup. Our leadership team was strong, and they empowered the members to be engaged in constructive criticism and think about the best ways to accomplish our shared mission. We created new processes to learn the best way to work with each other and complete our tasks. Not all our ideas were successful, but it was exciting to be part of a program that was new and find ways to work together without the experience from previous years. We all gathered for the right reasons – we all wanted to make a difference in our communities. This is why my service with AmeriCorps NCCC was an extraordinary experience despite the challenges of being a brand-new team. Serving alongside a group of individuals from different walks of life every day, you learn how to work with each other live in harmony and serve the greater good.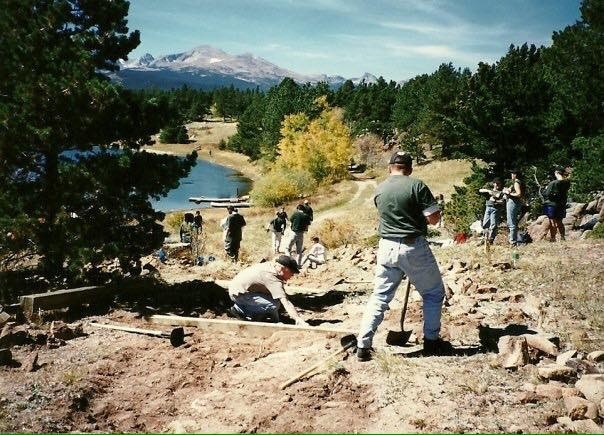 I was honored to receive the "Most Inspirational Corps Member" award from my team during my service. This moment holds a special place in my heart because my team members nominated me for bringing kindness and joy to our work. I strongly believe that there are no obstacles that we cannot overcome as long as we work together. But the most memorable moment from my service was when our team joined the Red Cross in New Orleans, La., to support disaster recovery efforts after the Great Flood in 1995. Our team distributed needed supplies to survivors and served meals in the community after people lost their homes to the flood. Though the circumstances were challenging, I fell in love with the community, culture, and people of that special place. We were in New Orleans for six weeks and it made an impact on me. So much so that I returned to serve the community 10 years later. In 2005, I served to help community members after Hurricane Katrina devastated communities and volunteered to support recovery efforts following the Deepwater Horizon oil spill in 2010.  
Finding My Future Through Service 
AmeriCorps was truly a life-changing year for me. My goals as a teen were to earn a business degree and expand my family's restaurant. I dreamed of being a famous chef, restaurateur, and hotel owner in the Caribbean. When I returned from AmeriCorps, I was forever changed.  While I managed my family's restaurant, I started a community garden. The calling to serve was there. I left to finish college, worked in local and state government, and then eventually moved to the West to manage AmeriCorps programs in Utah and the Mountain Region Office. AmeriCorps altered the course of my life and led me to a career in public service, social justice, economic development, and corporate social responsibility.
Choose Service to Experience Life 
Through AmeriCorps, I learned service opens our perspectives and allows us to experience different opportunities, personalities, and cultures. There are eight billion people in the world, different communities, and various ways in which people find happiness through connection. Listening to others and serving others is the best way to learn empathy and true compassion. 
I'm proud to say that I was one of the first Americans to join AmeriCorps. It's inspiring to see the growth of national service over the past 30 years, and it's exciting to see how AmeriCorps has evolved. I encourage all young people in America to consider service with AmeriCorps to expand their horizons and become the true leaders of our nation.  
Happy 30th anniversary, AmeriCorps, and thank you for helping me find my purpose. 
---
Rob Haynes is the manager of community investments and public affairs for Boeing Global Engagement in Colorado and Utah. 
A native of Kentucky, Rob has served in numerous government roles on the local, state, and federal levels. He brings 25 years of passion, service, and a commitment to working with others to make the world a little better each day.  
He has served as chief of staff to the President of the Louisville Metro Council in Louisville, Ky., as communications administrator and public relations specialist, as a local government advisor and federal grant manager for the Kentucky Governor, and as executive director of the Kentucky Office of Business for the Secretary of State. He also served as a program officer in the Utah State Office for the Corporation for National and Community Service and as a portfolio manager in the Mountain Region Office of AmeriCorps.  
 Rob is married to a returned Peace Corps volunteer who served in Mali. She is a research epidemiologist for the National Institute of Occupational Safety and Health.