You'll Be a Part of Something Bigger
Our mission is to improve lives, strengthen communities, and foster civic engagement through service and volunteering. We work to deliver grants and/or AmeriCorps members and volunteers to local organizations across the nation and invite individuals to serve alongside each other for the betterment of every community.
Grow Personally and Professionally
Learn and grow while giving back. Individuals who work at AmeriCorps build new skillsets, grow professionally, and have the opportunity to create a network across the agency through trainings, team building, and working groups.
Turn Your Passion into Action
AmeriCorps culture is unlike any other federal agency. You'll learn how to reach your own potential by working in an inclusive environment of individuals who share a passion for service and commitment to AmeriCorps' core values. You'll have the opportunity to join one of our affinity groups, volunteer in your community, and help others as a part of our work force.
Federal Employee Benefits
AmeriCorps provides several benefits for its members and volunteers. Education awards are available to AmeriCorps members, as well as supplemental health insurance, loan deferment, and childcare. Benefits vary by program.
Apply Today to Join Our Team
To view current vacancies within AmeriCorps, visit USAJobs.gov, the official job site of the United States Federal Government.

AmeriCorps is an Equal Opportunity Employer. All qualified applicants will receive consideration for employment without regard to race, religion, color, national or ethnic origin, citizenship, sex, sexual orientation, gender identity and expression, genetic information, veteran status, age, or disability status. Read our Civil Rights and Workforce Diversity Policy.
The Benefits of Working at AmeriCorps
AmeriCorps' goal is to make the agency on of the best and most equitable places to work in the federal government. Explore the jobs available at AmeriCorps and the benefits of being an employee.
What Do Team Members Say About Working with AmeriCorps?
"I am constantly inspired by the unwavering commitment and passion of my colleagues who share a common mission. I am proud of the work we've done on the agency's strategic plan. It has been a highly collaborative effort and I am grateful to have been a part of such a dedicated team." - Martha
Martha works in the CEO immediate office and is responsible for program expansion and project management.
Where AmeriCorps Works
AmeriCorps services communities all across America, but AmeriCorps currently has offices in the following areas.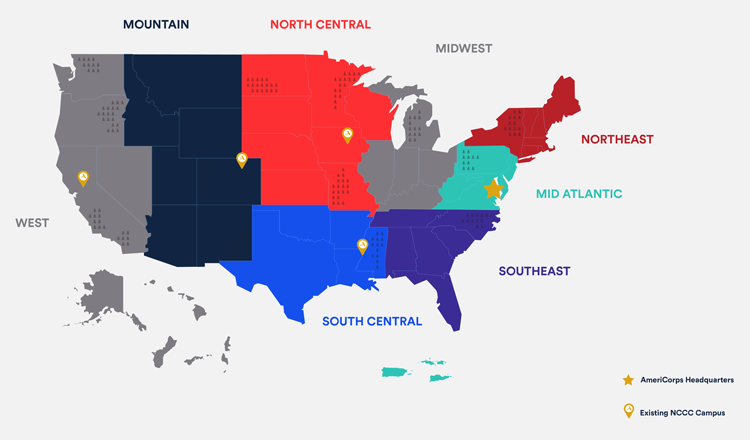 AmeriCorps is an Employer of National Service
Did you serve with AmeriCorps or Peace Corps? As an Employer of National Service, AmeriCorps is committed to providing job opportunities to national service participants. Accordingly, qualified AmeriCorps alumni, returned Peace Corps volunteers, and other national service participants are encouraged to apply to our positions.
Serve with AmeriCorps
We connect AmeriCorps members and AmeriCorps Seniors volunteers to organizations strengthening communities across the country.
 
Meet Our Team
Our agency is made of a team of individuals from different backgrounds and experiences, working as one to strengthen communities in our country.
 
About AmeriCorps
AmeriCorps provides opportunities for Americans to address the nation's most pressing challenges, improve lives and communities, and strengthen civic engagement.