Jul 08, 2021
Service brings goodwill to individuals
---
Every year, the New York Yankees' HOPE Week is a home run—but this year, it was a grand slam.
At its core, Yankees' HOPE Week initiative (Helping Others Persevere & Excel) is rooted in the fundamental belief that acts of goodwill provide hope and encouragement to more than just the recipient of the gesture. Each day of HOPE Week, the Yankees MLB baseball team recognizes the good works of a different individual, family, or organization. Each day is designed so honorees can share their inspirational stories, while having a day of fun with the Yankees. Honorees are also awarded the President's Volunteer Service Award, given "in recognition and appreciation of commitment to strengthening the nation and for making a difference through volunteer service."
Kicking off the 2021 HOPE Week was Gwen.
When she was 10 years old, Gwen wrote a letter to the Yankees front office expressing her dream of being bat girl. And while her original request was declined, she never strayed from her favorite baseball team, nor her community. Gwen spent 31 years serving as a social worker in Connecticut's Westport school system—and a committed Yankees fan.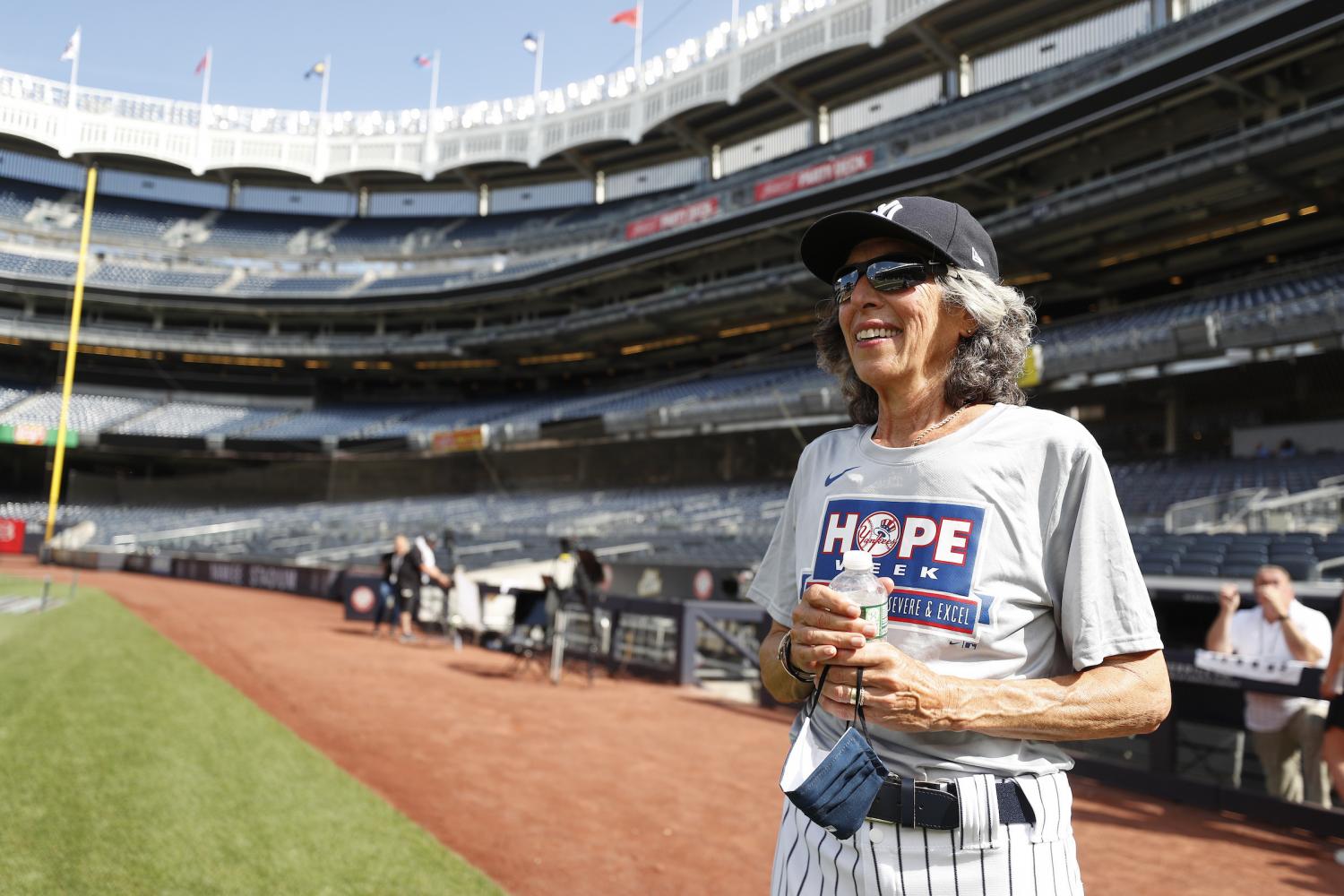 Photo credit: New York Yankees
Six decades later, her favorite pro team made her lifelong dream come true. Gwen got to take the mound to throw the first pitch—and serve as bat girl for the night.
"A day of a lifetime I can't put into words," said Gwen. "I don't know where to start on which was the best, which or what did I enjoy the most. Just the whole piece from walking in the front door of the stadium to coming up to a locker with my name on it, and suiting up, and walking out onto the field."
Even though a couple of games were postponed due to rain, HOPE Week did not stop the celebration.
The Yankees also honored 15-year-old Luke, who was diagnosed with T-lymphoblastic lymphoma, an aggressive form of non-Hodgkin's lymphoma. To benefit other teens treated at the same hospital he is, Luke designed his own T-shirt, which reads, "No One Fights Alone," to raise money for the hospital to spend on patient activities like popular books, toys, and video games.
Photo credit: New York Yankees
Unable to travel due to his treatments, Luke was able to test his mettle against several players, including shortstop and second baseman, Gleyber Torres; pitcher, Luis Severino; outfielder, Brett Gardner; and shortstop, Tyler Wade, who joined him virtually from the Yankee Stadium Press Conference Room for a round of video games, playing MLB The Show, of course.
Gwen and Luke are just two examples of the inspiring community members HOPE Week spotlights. There are many more. These honorees are strengthening their communities through their exceptional volunteerism and service—you could even say they've knocked it out of the park.
Are you feeling inspired by the Yankees? Get involved and find a service opportunity near you at americorps.gov/serve.
#WhatsAtYourCore?