May 27, 2022
John King loves to drive. But now, he's driving with a purpose – serving veterans. John King, 79 years old, is a veteran himself who continues to serve. He provides transportation for other military veterans, makes sure they get to medical appointments, assists them in buying groceries, takes them on a trip down memory lane or simply gives them the opportunity to spend time with someone who understands them. 
"This is what we owe them, because life today is what it is because of what these guys did," King says.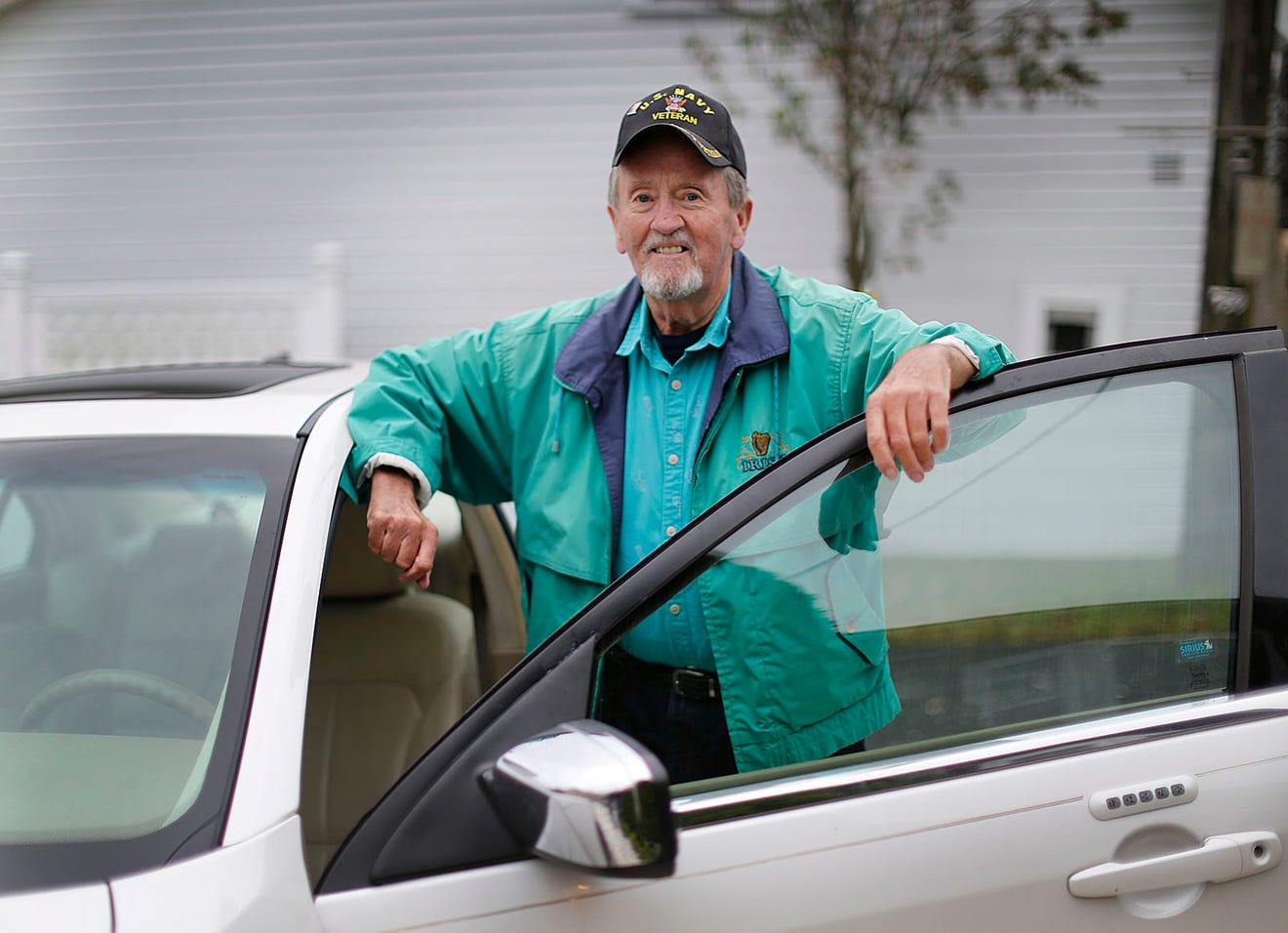 King is part of the RSVP Rides for Veterans program with AmeriCorps Seniors RSVP of Norfolk County in Massachusetts. The services King provides help veterans age in place with dignity and support. But it's not just about a ride or running errands, it's also about forging relationships. When one of his clients, Arthur, celebrated his 100th birthday during the pandemic, King, along with Arthur's case manager, planned a car parade of more than 40 cars including fire and police vehicles to show him the community's appreciation and love. As King drives his clients around, he is always open to small detours to allow his veterans the opportunity to visit a loved one's grave at the cemetery or to drive down memory lane at the veteran's former military base. As a fellow veteran, he can relate to their experiences, and he knows how to provide emotional support that makes them feel more socially connected.
John's not the only one providing these services and support to our veterans. The RSVP Rides for Veterans program enlists several AmeriCorps Seniors volunteers with countless stories like John's, as they each show their appreciation for those who have served their country. RSVP isa critical part of AmeriCorps. Every year, AmeriCorps places over 250,000 AmeriCorps members and AmeriCorps Seniors volunteers with organizations across the country to tackle the nation's most challenging issues. Our members and volunteers provide countless services and support in areas like disaster response, mentoring children and youth, aiding in COVID-19 recovery efforts and, of course, supporting our veterans, military personnel, and their families.
AmeriCorps has over 20,000 veterans who serve each year and collectively, AmeriCorps and AmeriCorps Seniors assisted 500,000 veterans and military families last year. As we celebrate May as Military Appreciation Month and Older Americans Month, we're highlighting how AmeriCorps Seniors volunteers, ages 55 and up, actively show their gratitude to veterans who continue to serve their country as well as to the families who support our military personnel. 
As AmeriCorps Seniors show their gratitude, they also provide impactful service and help to solve pressing issues within the veteran community. AmeriCorps Seniors RSVP volunteers at Thames Valley Council for Community Action in Connecticut support veterans by managing the RSVP Veteran Coffeehouse. In addition to a perfectly brewed cup of coffee and the camaraderie, veterans visiting the coffeehouse can receive vital information about benefits, services, and other resources to assist themselves, their caregivers, and their families.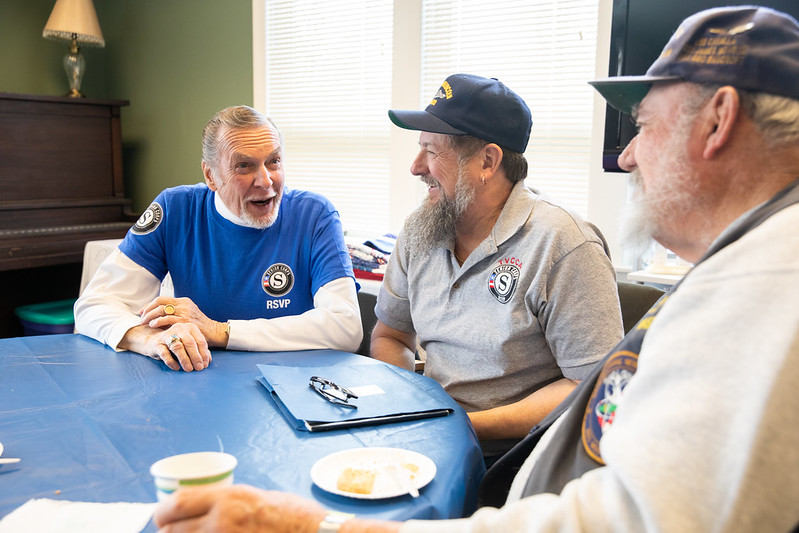 "The coffeehouse has been a great place to talk and experience the camaraderie that we experienced as veterans," said John Waggoner, a US Naval veteran who expressed how important the coffeehouse is to him.
Many veterans have challenges adjusting to civilian life as they strive to heal from both physical and mental wounds. As some veterans battle their mental scars, such as Post Traumatic Stress, traumatic brain injuries, and depression, many of these challenges can lead to difficulties in their personal life. AmeriCorps Seniors Seminole County Veterans Treatment Court Mentor Program sponsored by Volunteers for Community Impact in Florida, looked for ways to help veterans in crisis, especially those involved with the justice system. They created a program that pairs seasoned RSVP volunteers, who are also veterans, with veterans in crisis to help mentor them through the Veterans' Court process. It's their way of saying thank you for the all the sacrifices made to preserve our freedom, and they make sure these veterans experience fairness and equity in the systems and institutions they protected. 
Salt Lake City AmeriCorps Seniors also saw a need in their military community. Some military families were struggling to afford the cost of international telephone calls made to their loved ones overseas. These resourceful volunteers decided to collect old cell phones from their neighborhood and resell them. They used the proceeds from those sales to purchase prepaid calling cards for the military families in need and for overseas personnel to call home. Not only was it a great way to support families staying connected, but it was an innovative way to help recycle technology and reduce electronic waste.
AmeriCorps and AmeriCorps Seniors have many programs that support our veterans, military personnel, and their families. To learn how you can join the thousands of volunteers supporting our Veterans and their families, visit americorps.gov to find an opportunity near you. 
---
Atalaya Sergi has over 20 years of experience in service, community engagement and education. She has worked in the public and nonprofit sectors, bringing organizations together to ensure people of all ages, and those in underserved communities, thrive. She is currently the Director of AmeriCorps Seniors and was named one of PBS Next Avenue's 2021 Influencers in Aging. She is a graduate of the University of Virginia and received her Master's in Social Work degree from Virginia Commonwealth University. 
Mary Tobin is a proud military Veteran with more than 17 years of experience in leader development, community engagement, public speaking, and has a passion for addressing social justice issues that affect underserved communities. She is a graduate of the United States Military Academy at West Point and the New York Institute of Technology and is currently the Senior Advisor for Wounded Warrior, Veteran, and Military Family Initiatives at AmeriCorps.