Oct 19, 2023
It's been 30 years since AmeriCorps was created, and we celebrated in style. From Hollywood actors to political figures and grassroots activists, the entire nation came together in September 2023 to recognize the importance of national service in our country. The landmark event featured speeches from President Bill Clinton and Secretary Hillary Clinton to actor Jay Ellis, The King Center CEO Bernice A. King, and Senator Chris Coons, among others. Thousands of Americans joined in to recognize the importance of national service in our country.
A New Conservation Legacy to Tackle America's Climate Crisis
But that's not all. Ahead of the 30th anniversary celebrations, AmeriCorps celebrated the launch of a groundbreaking new conservation initiative – the AmeriCorps NCCC Forest Corps. In partnership with the US Forest Service, the first cohort of nearly 100 AmeriCorps members will be deployed in the summer of 2024 to help national forests and grasslands, mitigate risks of wildfires in high-risk regions, and support reforestation efforts and wildfire crisis response.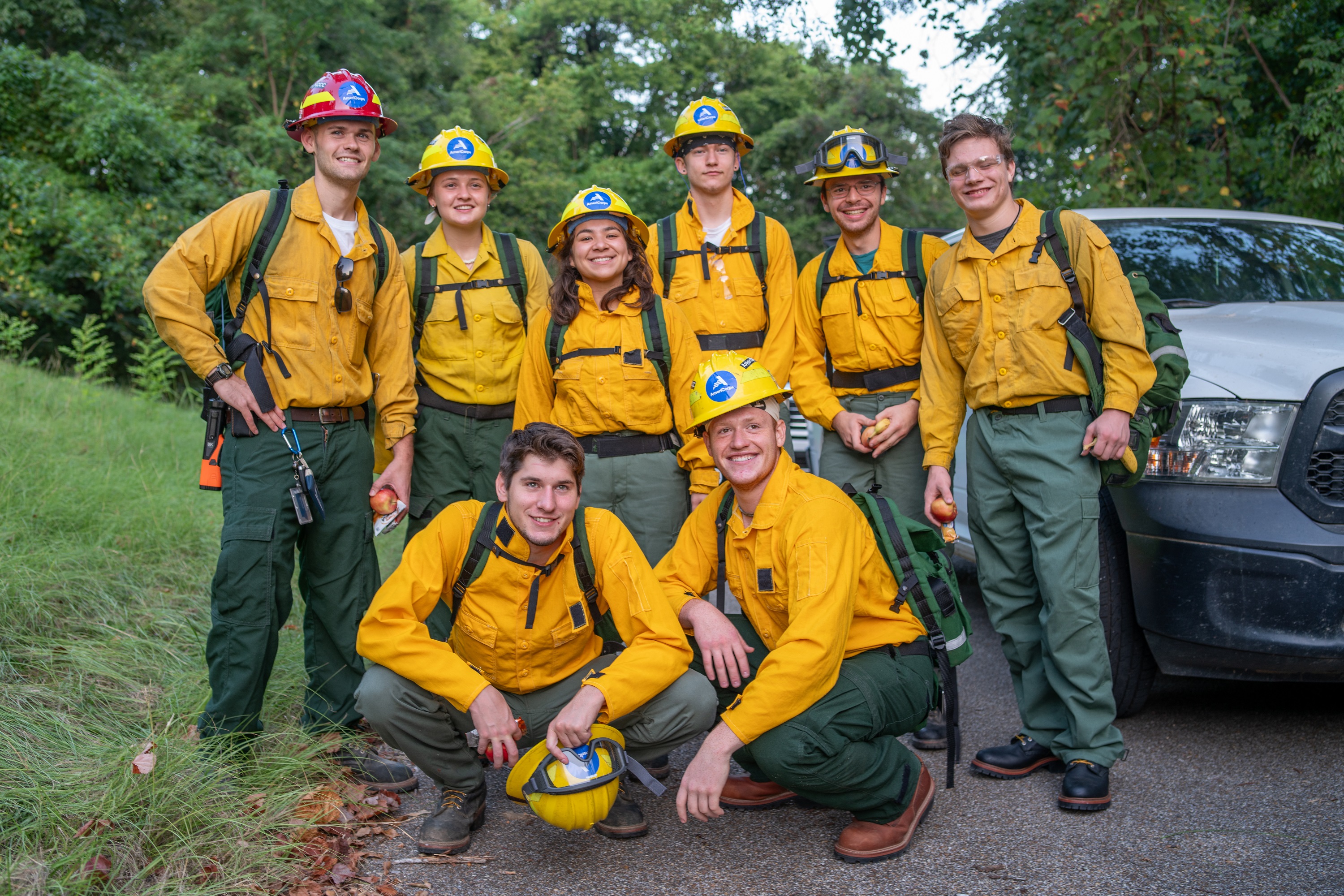 The new initiative will help improve the lives of individuals and communities nationwide while helping the nation address climate change's catastrophic and disproportionate impacts and unequal access to training, higher education, and high-quality jobs.
Social Media Shoutouts from Coast to Coast
The celebrations didn't stop there. From California to New York, Americans took to social media to show their support for AmeriCorps and its mission to lift up our communities and recognize the millions who have served. President Biden recognized the critical roles AmeriCorps members and AmeriCorps Seniors volunteers played for our communities over the past 30 years.
For 30 years, @AmeriCorps has provided over 1 million Americans a career pathway and the opportunity to serve.

They've taught millions how to read, rebuilt thousands of homes after disasters, and now play a critical role in my new American Climate Corps.

Happy 30th, AmeriCorps!

President Biden (@POTUS) September 21, 2023
Our nation's leaders and national service champions shared their support and recognition of AmeriCorps. They highlighted the impact of service in their state and how it can open doors to careers like it did for AmeriCorps alumnus Representative Matt Wilhelm.
Happy birthday, @AmeriCorps! 🥳

In the 30 years since President Clinton started AmeriCorps, over a million Americans have given back to their communities. It has been a delight to see this volunteer spirit take hold up and down Delaware and across our country. #AmeriCorps30 pic.twitter.com/D97GrJu0wB

Senator Tom Carper (@SenatorCarper) September 21, 2023
Happy 30th Anniversary, @AmeriCorps!

As a proud two-term AmeriCorps alumnus, I know the power + potential of national service to transform our communities + our country.

We need AmeriCorps now more than ever. Here's to the next 30 years of getting things done for America! 🎉 pic.twitter.com/eQVdIk5IuL

Matt Wilhelm (@RepWilhelm) September 22, 2023
AmeriCorps' partners, grantees, and alumni also joined in on the celebrations, highlighting their milestones and memorable service moments.
Actor of the hit television series "Insecure" Jay Ellis shared how his AmeriCorps service impacted not only his community but his life and perspective as well. 
A Moment to Commemorate in America
Hundreds of Americans joined our nation's leaders and AmeriCorps leaders, members, AmeriCorps Seniors volunteers, and alumni in a virtual event commemorating the 30th anniversary. 
AmeriCorps CEO Michael D. Smith was joined by:
Our board member Shirley Sagawa, who helped establish the agency under former President Bill Clinton; 
The King Center CEO Dr. Bernice A. King discussed the importance of AmeriCorps' partnership during Martin Luther King, Jr., Day of Service;
Lieutenant Governor Billy Nungesser highlighted the impact of national service after Hurricane Katrina in Louisiana; and 
Senator Chris Coons shared about his experience designing one of the first AmeriCorps programs more than three decades ago. 
AmeriCorps ended the official 30th anniversary kickoff by welcoming the newest class of members across the nation – Team Leaders in the AmeriCorps NCCC Southwest Region, Storytime Village VISTA program, and LifeLong Medical Care AmeriCorps Health Fellows.
Celebrate Milestones Yearlong
AmeriCorps' anniversary celebrations will continue all year long. Each month, AmeriCorps joins Americans, national service programs, and partners to highlight the milestones that continue to address our nation's toughest challenges, like the Clinton Foundation's upcoming summit. The agency will join President Bill Clinton and national service champions on October 26, 2023, for the AmeriCorps: 30 Years Forward Summit to commemorate the 30th anniversary and discuss the future of service. 
Stay tuned for more updates and events - you won't want to miss a single moment of AmeriCorps' milestone year! Learn how you can take part in the celebrations and follow @AmeriCorps on X (formerly known as Twitter), Facebook, Instagram, and LinkedIn to learn about the latest events.