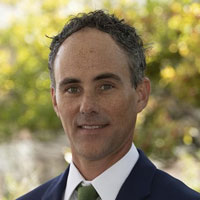 Director, AmeriCorps NCCC
Ken Goodson is director of AmeriCorps NCCC (National Civilian Community Corps), an AmeriCorps program that recruits young adults to serve in 10-12 month and summer service terms focused on meeting national and community priorities across the nation. He oversees the operations and management of AmeriCorps NCCC and the FEMA Corps program.
Ken began his AmeriCorps journey in 2012, serving as the region director for the AmeriCorps NCCC Southwest Region for seven years before going on to serve as regional administrator for the launch of the AmeriCorps Mountain Region. In his roles at AmeriCorps, Ken has created unique partnerships between NCCC, State Service Commissions, and non-governmental partners, led the development of the nation's largest COVID recovery program engaging national service participants from AmeriCorps and AmeriCorps Seniors, and developed the NCCC Summer of Service program.
Prior to AmeriCorps, Ken served as a Peace Corps volunteer and then as a Peace Corps staff member in six different countries over 15 years. His final assignment at Peace Corps, the Comprehensive Agency Assessment, resulted in the most significant set of reforms to Peace Corps operations and the largest increase in funding in the agency's history. Ken is an innovative leader with proven success in leveraging partnerships and people to make sustainable, positive impacts through service at both the grassroots and global level.