Feb 23, 2023
Black History Month is the national celebration of the significant contributions of Black Americans to the ongoing story of America. From the fight for social equity, LGBTQI+ rights to climate justice, Black voices have long been at the forefront of progress in American history. At AmeriCorps, it's no different. From tackling food security, systemic inequality to closing the gaps in our education and public systems, Black AmeriCorps members, AmeriCorps Senior volunteers, staff, and alumni have helped build a foundation for getting things done in communities across the country. 
Meet Amilia, an AmeriCorps member whose service in the VISTA program uniquely combines giving back and sports. Through her service as a rowing coach, she builds relationships with youth and in turn makes the sport more equitable for people of color.  
 "Representation in a sport means everything for a kid. They think to themselves, 'I can do this'," said Amilia. 
By dedicating her time to her community, she is not only lifting up younger generations but serving as a role model. 
AmeriCorps member Amilia coaching crew.
Another alumna, Portia served with AmeriCorps NCCC in the Southern Region. During her service, she rebuilt homes and schools after Hurricane Katrina, tutored youth in after school programs, and removed invasive species in Florida.  
"This Black History Month, we should discuss better ways to celebrate, re-discover, and relearn people who have been overlooked. The US government first recognized Black History Month in 1976, but in 2023, what does it mean for a new generation, and how can it be connected to where we are now?" 
Portia leveraged her service to start her career at AmeriCorps where she continues to build up communities today. 
AmeriCorps Alumna Portia and her AmeriCorps NCCC team.
Grandpa JC is an AmeriCorps Senior Foster Grandparent and AmeriCorps Uniter, who has served for more than two decades with the Boys & Girls Clubs of Fresno County. At 93 years old, Grandpa JC lived through life-changing racism and segregation. While schools and jobs were limited for him, he found ways to give back, helping more than 100 children, and troubled young adults from underserved communities find their purpose through love and support. 
"I joined with the belief that every child deserves a chance for a better life. I understood what a difficult childhood was like. Some kids are from nothing, and we'll lose them if you don't win them. Everybody deserves to be loved no matter where they come from."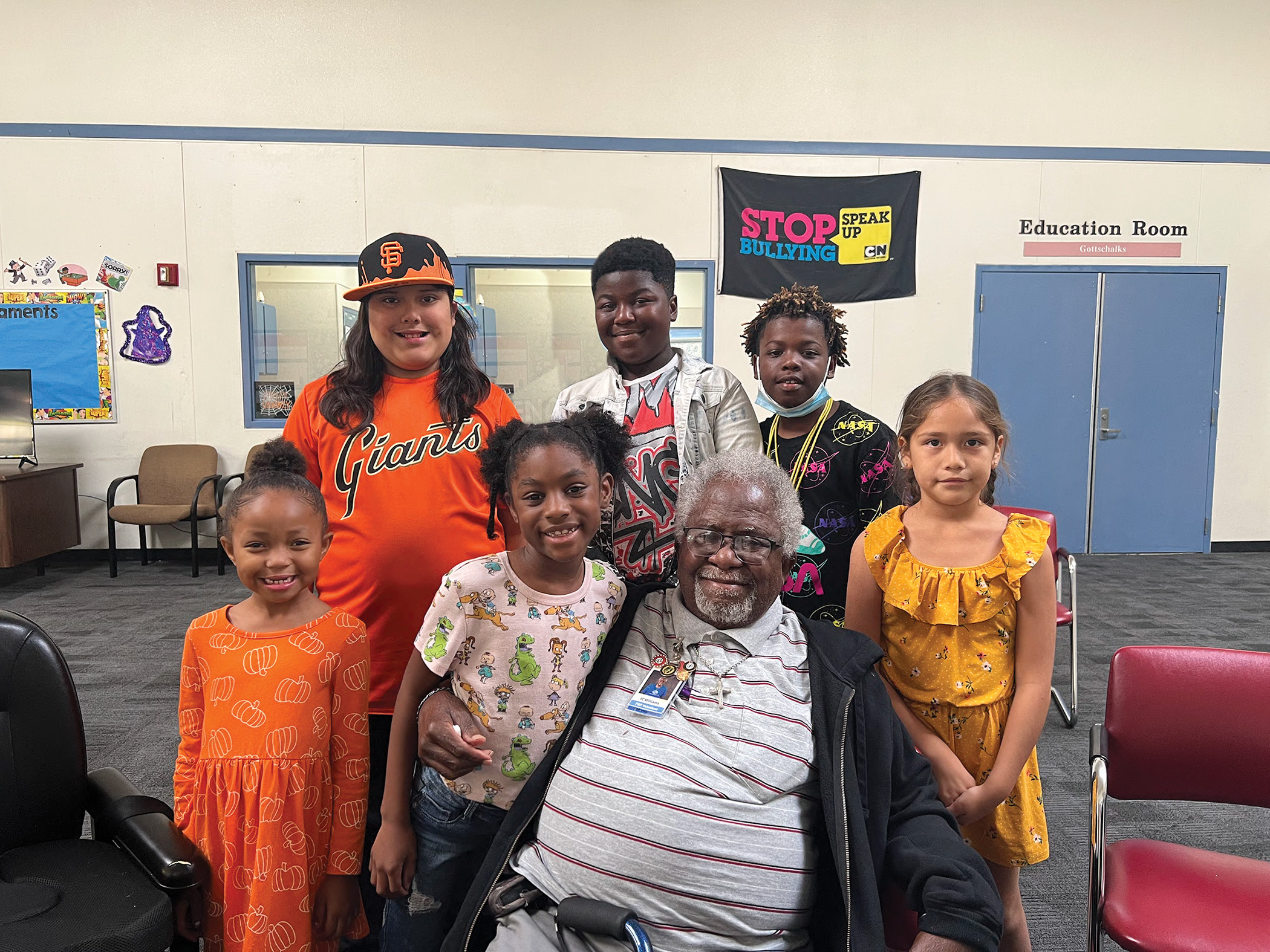 AmeriCorps Senior volunteer Grandpa JC and few of his foster grandkids.
At AmeriCorps, the commitment to serve others is owned by every member of the team, including AmeriCorps CEO Michael D. Smith. After joining the agency in December 2021, he hit the ground running: touring service projects across the country, speaking to local community leaders to better understand how national service can address local challenges, and serving alongside AmeriCorps members and AmeriCorps Senior volunteers. CEO Smith is committed to making national service more accessible to people from all walks of life.  
"It was at my Boys & Girls Club Family Center that I first met AmeriCorps members, along with all kinds of volunteers. My young mom was looking for affordable daycare options and found a community rich in love, kindness, and care. Volunteers took us camping, taught us about Black pride and social justice, and they gave us the opportunity to serve and care for our community when we were still little kids. I look forward to continuing to celebrate Black history, culture and joy this month and all year long, while we continue to do the work of reducing barriers and expanding opportunity to make service possible for all."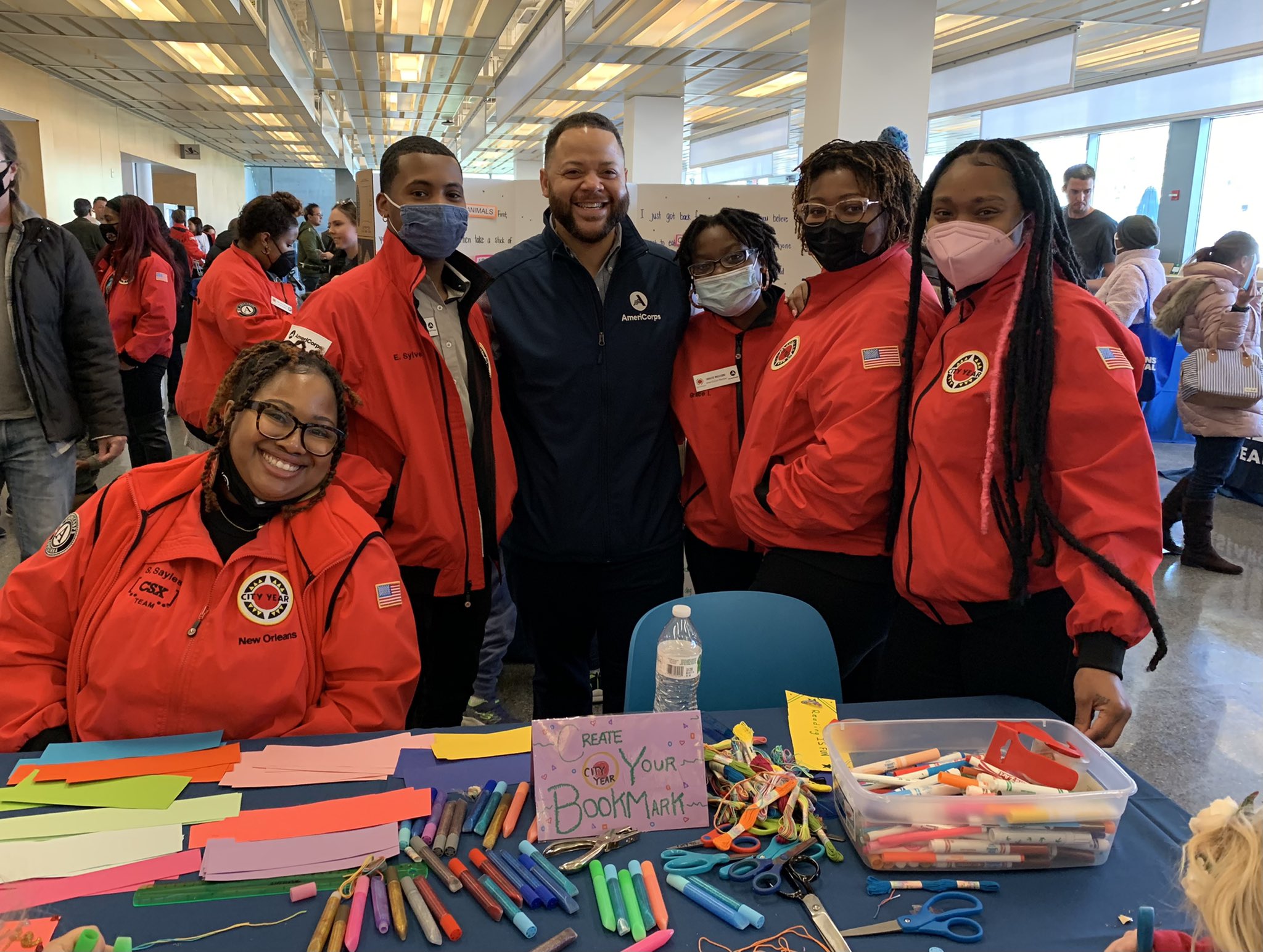 AmeriCorps CEO and AmeriCorps members serving with City Year.
From the highest levels of AmeriCorps to members, volunteers, staff, and alumni, Black voices of service are at work across the nation. They serve for the betterment of our country and are pillars in our communities. As we celebrate the American history that is Black history, let's continue to amplify the voices that continue to bring out the best of America. Together, we can help build more equitable, just communities that foster racial equity, expand opportunity, build bridges across divides and create lasting impact for our neighbors. Learn more about how you can join in the work at AmeriCorps.gov/Serve.