Are you an educator, counselor, youth development coach, parent, or mentor?  As a community leader, you have the ability to make a difference in the lives of the young adults in your network.  A term of service in AmeriCorps NCCC can be a great next step in their professional development. We need you to help spread the word about AmeriCorps NCCC opportunities. Scroll down to learn more.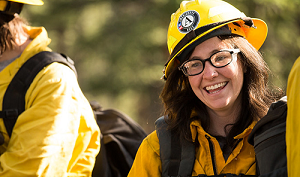 What is AmeriCorps NCCC?
NCCC is a service program for young adults of all backgrounds. It begins with free room and board, travel, and skill-building, and the benefits continue long after the program is over with an alumni network and career resources.
The above video may include external links to YouTube's video platform. YouTube's privacy and security practices and policies may differ from AmeriCorps'. AmeriCorps is not responsible for these links nor does it endorse the content of the third-party website. Find out more.
At a glance
AmeriCorps NCCC is a team-based, full-time service program.
Serve for 10-12 months
Must be 18-26* years old
No minimum education requirement for service
Two intensive program options
Benefits
Gain valuable leadership skills
Travel the country
Earn an Education Award
Build resume through service
Understanding the options
AmeriCorps NCCC offers two unique paths to service: Traditional Corps and FEMA Corps. Both paths include a Corps Member position (for 18-26* year olds) and a Team Leader position (for individuals 18 and up who possess leadership experience).
Traditional Corps teams partner with local and national organizations to complete hands-on projects in a designated region of the country. FEMA Corps Teams serve nationally under FEMA direction to complete administrative projects related to disaster preparedness, mitigation, response, and recovery.
'[My daughter] went into AmeriCorps NCCC as a sheltered, suburban 18 year old. She came out with a new, broad view of our country and its people. She gained some awesome construction skills, too!'
/ Susan, parent of AmeriCorps alumnus

Ways to get involved
Do you share in our mission of building the next generation of leaders by providing young adults with valuable career opportunities? Download our resources and share the details of AmeriCorps NCCC with your network
'I can't say enough about the amazing experience had by my son. He gained so many life skills and had amazing experiences! He will treasure the memories forever!'
/ Lori, parent of AmeriCorps alumnus
*The CARES Act, passed by Congress in response to the Coronavirus pandemic, increased the upper age limit for participation as an AmeriCorps NCCC Corps Member to 26 years old. Under the CARES Act, Section 3514(d), the upper age limit for AmeriCorps NCCC members is 26.  AmeriCorps NCCC applies the upper age limit at the time a member arrives on campus and is activated as a member. That means individuals must be on campus and activated as members for at least one day before turning 27. The 26-year upper age limit will remain in effect until further notice.